WWF Singapore  - http://singapore.panda.org/

237 Cantonment Road
Singapore 089767

T: +65 6323 0100
F: +65 6323 0179
E: info@wwf.sg

World Wide Fund for Nature (WWF) is one of the world's largest and most experienced independent conservation organisation. 

Green Business Times - http://www.greenbusinesstimes.com
Leading online sustainability toolkit for businesses in Singapore, with a green editorial focus on Strategy and Leaders, Operations and Culture, Design and Tech, and Marketing and CSR. 
Deforestaction - http://dfa.tigweb.org/
Global collaborative project to halt the destruction of important rainforests, create a permanent home for orang-utans, and save the planet
Tropical Forest Foundation - http://www.tropicalforestfoundation.org/

BOB JOHNSTON, EXECUTIVE DIRECTOR
Phone: 703.518.8834
Fax: 703.518.8974
E-Mail: tff@tropicalforestfoundation.org
TFF HEADQUARTERS ARE LOCATED AT:
Tropical Forest Foundation
2121 Eisenhower Ave. Suite 200
Alexandria, VA 22314
The Tropical Forest Foundation (TFF) is an international, non-profit, educational institution committed to advancing environmental stewardship, economic prosperity, and social responsibility through sustainable forest management (SFM).

Asia Forest Partnership - http://www.asiaforests.org

Office Address:
AFP Secretariat
Jalan CIFOR, Situ Gede, Sindangbarang
Bogor Barat 16115
Indonesia
Mailing Address:
P.O. BOX 6596, JKPWB
Jakarta 10065

Telephone: +62-251-8622-622
Fax: +62-251-8622-100
Email for general inquiries:AFP@cgiar.org
Forests in Asia play a critical role in providing a variety of services that millions of people depend upon. They provide food, building materials, medicinal plants and fuel wood. They supply timber for domestic and export markets, protect soils from erosion, play an important role in recycling and distributing freshwater, and lock up significant quantities of carbon dioxide, one of the greenhouse gases contributing to global warming.

Centre for International Forestry Research - http://www.cifor.cgiar.org

Email for general inquiries: cifor@cgiar.org
Email for publication inquiries: cifor-publications@cgiar.org

The Center for International Forestry Research is a nonprofit, global facility dedicated to advancing human wellbeing, environmental conservation and equity. We conduct research that enables more informed and equitable decision making about the use and management of forests in less-developed countries.

RECOFTC – The Center for People and Forests - http://www.recoftc.org/site/About-Us/
P.O. Box 1111, Kasetsart Post Office
Bangkok, 10903, Thailand
Phone: (662) 940-5700
Fax: (662) 561-4880, 562-0960
Email : info@recoftc.org

RECOFTC – The Center for People and Forests is an international organization with a vision of local communities actively managing forests in Asia and the Pacific to ensure optimal social, economic, and environmental benefits.
Global Alliance of Community Forestry - http://www.gacfonline.com/
GACF (Global Alliance of Community Forestry), established in 2004, is a loose network of community based organization formalized with the aim of creating a common ground to meet the necessities, interest and experience of the stakeholders representing forest communities from different parts of the worlds for securing their rights to forests at the international and regional levels.
USDA Forest Service - http://www.fs.fed.us
Established in 1905, the Forest Service is an agency of the U.S. Department of Agriculture. The Forest Service manages public lands in national forests and grasslands.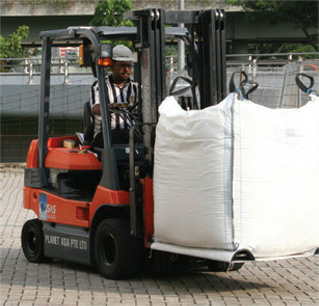 "The Pack Less is an interesting project because we transport our pre-forms, the pre-form is one small tube of PET that will be blown in our factories to become the Coca-Cola PET bottle we all know of. These pre-forms are transported up to our factories mostly in cardboard boxes on wood pallets. ... read more »

John William Sevante
Supply Chain Planning Manager
at Vonpar
"We did a study with The Espaco Eco Foundation, a BASF company specializing in life cycle analysis which compared in various ways the Pack Less with wood pallets. The conclusion was that the Pack Less is better in all its dimensions: Environmental, social, consumption of materials, energy, water, air emissions, waste and risk of accidents during the production process. In all these criteria, the Pack Less was proved to be the best… On the issues of greenhouse gas, Pack Less can reduce emissions by 85% compared to the alternative of wood pallets.
... read more »

Jorge Soto
Director of Sustainable Development
at Braskem